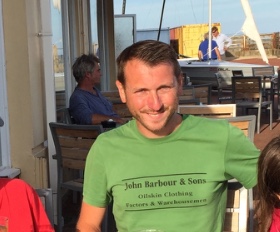 I'm a 70s kid from north east England.
We got our first inside toilet when I was 4 years old in our new council house!
No more freezing bum in the winter! Yay!
My happy childhood was spent exploring, playing football and getting up to no good in every nook and cranny in the housing estate where we lived and beyond!
I worked in bars to fund my adolescent shenanigans, followed Sunderland AFC all over the country, played guitar in a band with mates and still managed to scrape a "Desmond" (2:2) at Sunderland Uni! Quite an achievement you'll agree!
Even armed with my fresh degree certificate, the guaranteed £20k a year job which the careers guidance teacher promised never materialised so my working life began as a Shipyard Chemist earning less money than I was in my local supermarket!
The shipyards closed and I landed in Aberdeen, Scotland 
 to work the Oil & Gas industry as a fire & explosion safety engineer (stopping things from going bang 
) in 2000 until I lost my contract in the industry downturn in 2015.
Oh and somewhere in between there my 2 children came along into my world. 
Hardly a sound base for a blooming self catering hospitality business I hear you cry. Right….? Well, let me continue…
After another change of circumstances I renovated, then started to "Airbnb" my first Aberdeen apartment between spending alternate weekends there myself with my children to cover the costs, having previously been a traditional landlord with it since 2004.
I loved welcoming guests from all over the world 
 and soon got the bug. I wanted to set up more lovely places for folk to enjoy while they were away from home.
So after setting up a house in Aberdeen we renovated a Victorian townhouse maisonette, then a beach apartment back in South Shields for future guests to enjoy, and they they did.
So over the next few years we worked hard to add even more properties to our portfolio!
We now proudly run 9 beautiful properties, 5 in Aberdeen & 4 in South Shields, some on behalf of landlords, on a full time basis.
Our minimalist (Skandi) yet homely style is a hit with everyone so we feel we're getting things just right!
When COVID hit these shores we just made the most of the lockdown from a personal perspective, looked after every one of our guests who's bookings were affected IMPECCABLY, (so book direct with either us okay as we will do the same for you) and we even managed to take on another place and set it up during the lockdown!
So after a very different but great family holiday with my kids this summer I want to say a huge thanks to all of the key workers who stayed with us during lockdown and wish everyone a happy post lockdown.
And if you need a great place to stay in either Aberdeen or South Shields, you know exactly where to come and who to contact.
(Apart from the fact that we have amazing properties at great prices!)