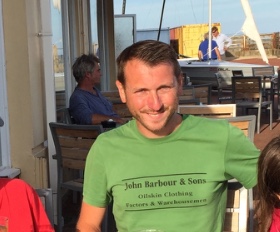 I'm a 70s kid from north east England.
My happy childhood was spent exploring, playing football and getting up to no good in every nook and cranny in the housing estate where we lived and beyond!
I worked in bars, followed Sunderland AFC all over the country, played guitar in a band and still managed to scrape a "Desmond" (2:2) at Sunderland Uni! 
My working life began as a Shipyard Chemist crawling round in double bottom tanks, and that was on a good day!
The Tyneside shipyards closed and I landed in Aberdeen, Scotland to work the Oil & Gas industry as a fire & explosion safety engineer in 2000 until I lost my contract in the industry downturn in 2015.
Oh and somewhere in between there my 2 children came along into my world. Hardly a sound base for a blooming self catering hospitality business, right?
Well, after another change of circumstances I renovated, then started to "Airbnb" my Aberdeen apartment between spending alternate weekends there with my children.
I loved welcoming guests from all over the world/UK and soon got the bug. I wanted to set up more lovely places for folk to enjoy while they were working or travelling away from home.
We renovated a Victorian townhouse maisonette, then started looking after properties for busy landlords..
And over the next few years we worked hard to add even more properties to our portfolio!
We now proudly run 16 beautiful properties, 8 in Aberdeen & 8 in South Tyneside, mostly on behalf of landlords and have become longer term stay specialists, mainly for businesses and other organisations needing emergency accommodation.
Our places are a hit with everyone so we feel we're getting things just right!
So if you need a great place to stay in either Aberdeen or South Tyneside for work or play, or if you are a landlord/property owner in these areas, you know exactly where to come and who to contact.
(Apart from the fact that we have amazing properties at great prices and provide local support!)