So how do we top our last thrilling blog post with talk of breakfast from Greggs on The Nook?
Well first lets recap..
We mentioned a family who had travelled from the other side of the world.
New Zealand to be precise.
They needed a place to stay in an emergency.
The accommodation originally booked for them was a bit of a shambles.
I would genuinely pack it all in if I was still prepared to take new guests into a property after water had been leaking in a gas boiler for several days.
But that is how some other operators behave.
Shambolic.
Negligent?
ANYHOO…
With 3 young kids, this young family needed somewhere spacious, where they could recover from their long journey.
But also somewhere with a little outside space…
So our Hartington Terrace, South Shields 4 bed townhouse ticked all the boxes.
And we also mentioned an old school friend who is also a landlord.
He contacted us after we asked for properties in the South Tyneside area for us to manage and run as self catering accommodation.
Well, this is the story of how we took it from an unfurnished shell to a lovely family (or contractor) home by giving it our usual sprinkle of TLC.
Improving, furnishing and getting the photoshoot all done in a week.
And catching up with a fair few friends along the way!
We got a head start a week early by paying a quick shopping trip to ASDA.
Which I detest with a passion. Shopping, not ASDA that is.
To stock up on the usual duvets, bedding, towels, kitchen stuff, etc.
Exiting times!
My week with my kids in Aberdeen flew over. As it always does.
They are teenagers now, young adults.
God, how did that happen?
They split their time between me and their mams for which I am eternally grateful.
On Saturday night we played a quick campervan version of Jenga to pack in as much stuff as possible to maximise my time on 'site' making improvements, and to minimise the dreaded shopping.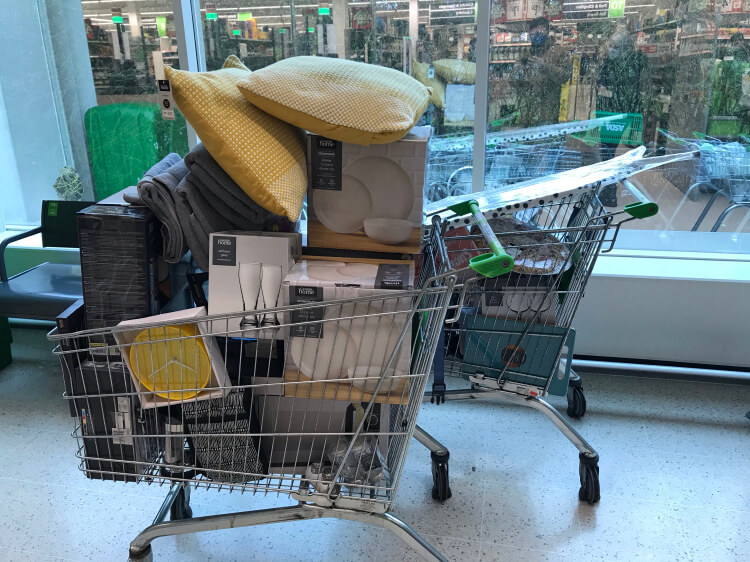 So after a lovely Sunday afternoon in Inverure with my kids Sonny, and Lola and girlfriend I headed the 250 miles south in my 25 year old camper in the early evening.
When I say camper I think folk think…cooooool!
But old REJ (last part of its reg plate) is a bit of an old dear.
She's had more welding to the bodywork than a very rusty thing.
But with some love and attention I hope to keep her going well into her retirement.
I arrived in Boldon around 10pm, unpacked the van (sorry neighbours), quickly set up a bed and crashed out shattered!
7am!
Hello Monday morning.
I couldn't find the kettle so after a quick glass of water and a shower got stuck into it.
Apart from the usual activities associated with moving house, my main task is making the place look nice to try to attract guests to our self catering places.
And to me that means painting the world white!
I love the look.
I think it stemmed from my first holidays abroad in my 20s.
White walls, tiled/wood floors.
It just works.
Clean and crisp.
Some say white is 'cold' but I think this is the mind of clever marketers who've conned us into thinking that you need an 'off' white to make it look different to other people.
To flog you loads of different shades of paint!
Who'd have thought?
And the first room to tackle was the 'Dinosaur Room.'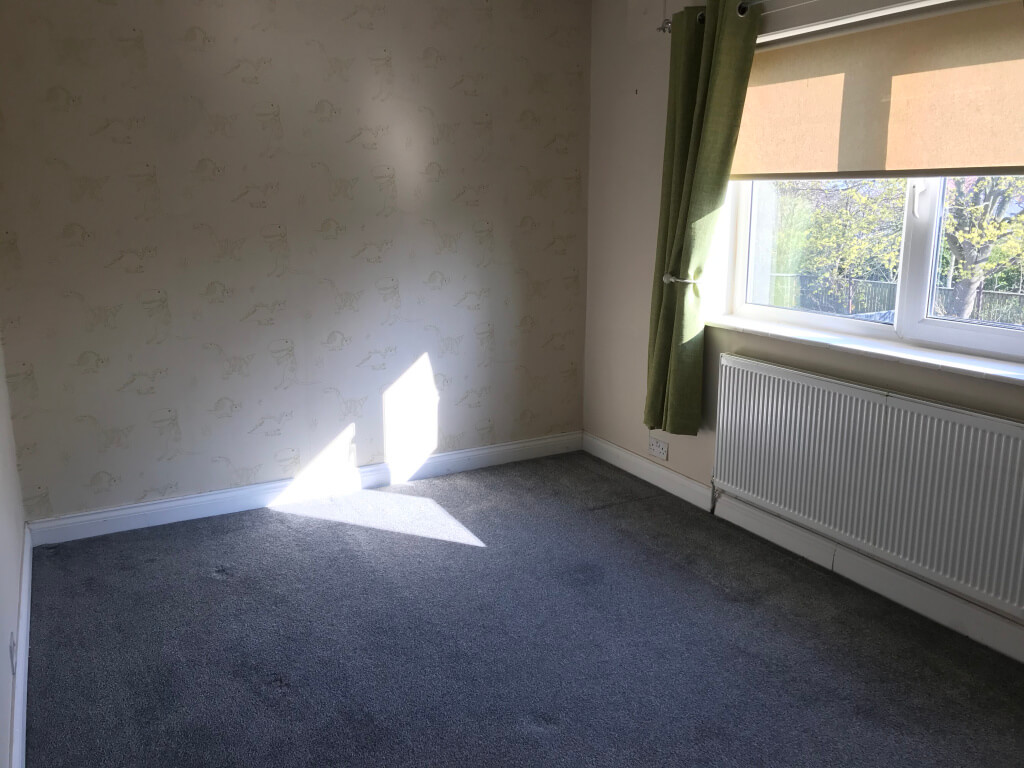 I also planned to freshen up the single box room which had some sparkly paper from a previous tenant. This decor wouldn't go down well with my macho contractor guests.
Two rooms as I only had a week to do the whole place.
But as is usual when you decorate, the fresh new paintwork makes the older rooms look tatty and I ended up doing the whole hallway/stairs, kitchen and most of the gloss work!
Probably more than double, maybe nearer treble than what I originally planned.
C'est la vie.
Even before I arrived my extended 'team' (some folk who do what I do and take themselves a bit too seriously call workers who support their business their "POWER TEAM" haha!) had started doing some essential improvements/activities.
Lee my sparky (my best mates bro in law) had made some electrical improvements and passed the EICR (a legal electrical check).
He even put up the key lock box!
Cheers mate!
My old best mate from school, college and uni had started the garden tidy.
I needed to get my delivery head on.
As soon as I knew I was going for this place I was on the hunt for some nice furniture.
And the dining table is a critical piece.
I like to get nice solid pieces of furniture.
Solid wood.
I try to avoid Ikea type stuff wherever possible.
Stuff that will last ands stand up to hard knocks.
And I found this amazing extending table to seat 6-8 online.
The sellers in deepest Newcastle were good enough to hold onto it for a whole week for me.
Trusting me to come down from Aberdeen to collect it today as agreed.
And as anyone who sells stuff online for collection will know, there are a lot of unreliable folk who don't turn up.
Turned out that the table was in a house right next to Newcastle United's training ground!
Was this a bad omen (I am a Sunderland 'fan')? Haha!
The table had been kindly dismantled on arrival and the table top was an absolute 10 ton weight.
SO I'd need a hand at the other side from some unsuspecting knight in shining armour!
Right on cue!
Not long after pulling up at the front door, my old mate from school, who'd I'd been to a few Sunderland away games with over the years, is also my regular plumber/heating engineer showed up!
After he assessed the actual job in hand (to see if was feasible to plumb in a dishwasher, and it was) he kindly helped me in with the table top after much ribbing about my cheek.
Cheers Colin Armour Plumbing & Heating.
A new dishwasher and washing machine was duly ordered online.
In the past I have bought these second hand to save a few pennies but experience has shown it is not worth the hassle.
And the final mattress needed was also ordered, my usual Silentnight!
At this point I was thinking "food".
I am pretty bad at looking after myself food wise and tend to run on empty for as long as my body allows then eat big.
I am not confident in the kitchen and as a result usually batch cook or in busy (setting up new places times) eat pizzas/take aways.
I know it's not good for you but in tough times needs must.
But on this occasion my good old mam was only 2 miles away.
A rare occasion for her to exhibit her amazingly caring motherly duties, even to her supposedly fully grown son….
I'd already been in touch to let her know I'd be down, 'back home' and that it would be good to see her.
Like everyone, it's been crap since COVID hit, only seeing her a handful of times on doorsteps. etc.
Siting across from her in a garden and not being able to give her a hug.
What is that all about?
Anyway, I dropped her a text, with a throw away comment at the end "are you still doing those take away chicken dinners?"
"Not yet" she replied, but the seed was sown!
Asda pizza it was!
By the end of Monday I had the dining table in place, first coat on the dinosaur room and prepped the stairs walls where old stair gates etc had damaged the walls a bit.
Tuesday morning and was more of the same.
Up, wash, drink, paint, repeat!
But at 7am I noticed a text on my phone.
Mam: I'll probs do mince and dumplings on Wednesday, if you want to pop over I'll keep some for you!
YES! Result.
My mams mince and dumplings are superb.
Legendary.
Absolutely top notch.
This was the kind of boost I needed to keep me going through the pretty mundane task of painting the world white for the rest of the week!
Some proper home cooked food.
8am came and my plumber showed up and by 9am the dishwasher plumbing was in, ready to be connected for it's arrival on Wednesday.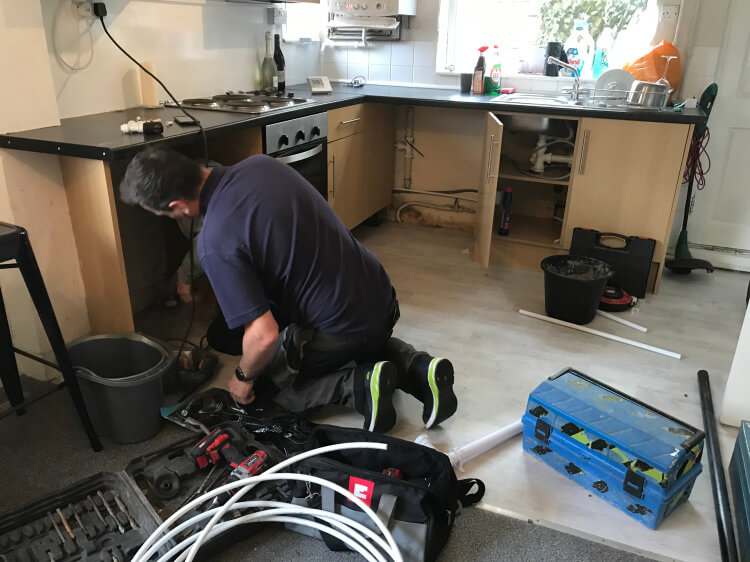 And the WIFI switch was installed which means that I can now turn on the heating before guests arrive to make sure the place is all cosy for them using an app on my phone. And of course switch it off when they check out to save energy and money.
We cant promise everything will be right at our places but we try our best!
Given the additional painting I decided to do I reschedule the photo shoot from Saturday to Sunday morning.
Another trip to ASDA to collect more household stuff and a pizza for tea then I was to head to a my mates (the plumber) for a couple of socially distanced beers in the garden with him and another mate I've known since school.
I banged the pizza in the oven, quick shower, then took pizza out of the oven to devour it before heading to his.
IT WAS COLD.
As it was the first time I had used the oven, I hadn't realised there was a dial with a timer on, which needed to be set to warm function.
Kind of like an on button.
So my whole plan was ruined!
A quick call and my mate said "just bring it here and cook it at ours."
Lifesaver 
Over lockdown, like many, bored our of their heads, he had made this amazing 'bar' from part of his garage and hopefully the next time I see him we will be allowed to go in there together!
It was great to have a good catch up with them albeit a bit chilly under the gazebo!
Apart from the usual decorating tasks, Wednesday was delivery/collection (white goods and mattress, bathroom mirror, etc) and garden tidy day.
The online order of dishwasher/washing machine arrived.
As did my old pal to finish the garden.
The neighbours in the street are lovely.
And my 2 next door neighbours have their outside spaces kept immaculate.
I always like to maintain good relationships with neighbours for obvious reasons.
Previous tenants have obviously done their best, but over the years the hedge along the path into the house had started to take over and as a result you had to squeeze past it to get to the front door.
My best guests are contractors and one heavy swinging bag from a big strapping lad against the neighbours fence could send it crashing so I had to do something about the hedge.
It was severely hacked back. Might look a little bare but will come back, and my great neighbours fence is safe once again!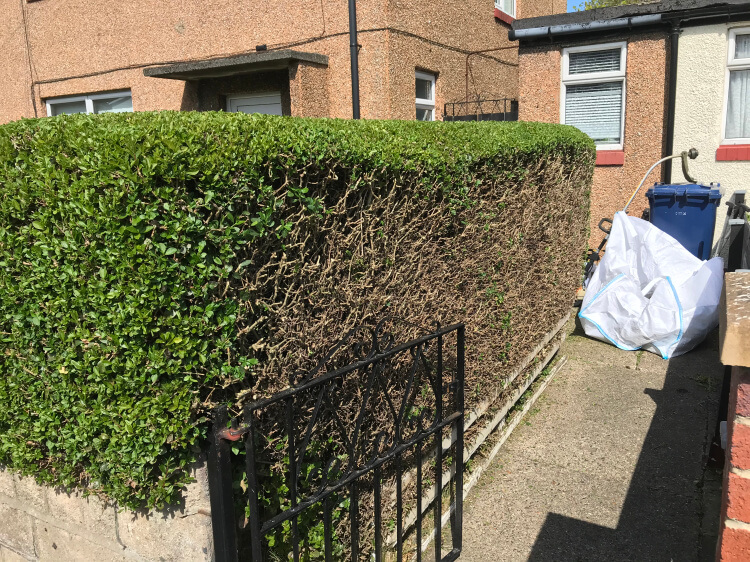 The final piece of the jigsaw for the kitchen was needed next.
And it was another removal job.
The large American style fridge freezer from my old flat on Westoe Crown Village would be perfect to hold the goodies fresh for years to come.
And an old friend who got back in touch on the back of one of my blogs about being dragged up in Biddick Hall was my willing aide.
We met at my flat.
When we climbed the flights of stairs and he saw the fridge freezer he said "You never said it was on the SECOND floor!!"
Haha, sorry mate.
It was a bit of a sad time as will be the last time I'll probably see the place.
The sale is expected to be complete in a week or 2 from now.
And I've had some good times in there with my kids, long weeks at the beach and a great Christmas.
But this was business.
And it was FRIGGIN heavy!
A back breaking 10 minutes later and the item was in the back of my camper and we were in the Sundial having a pub lunch.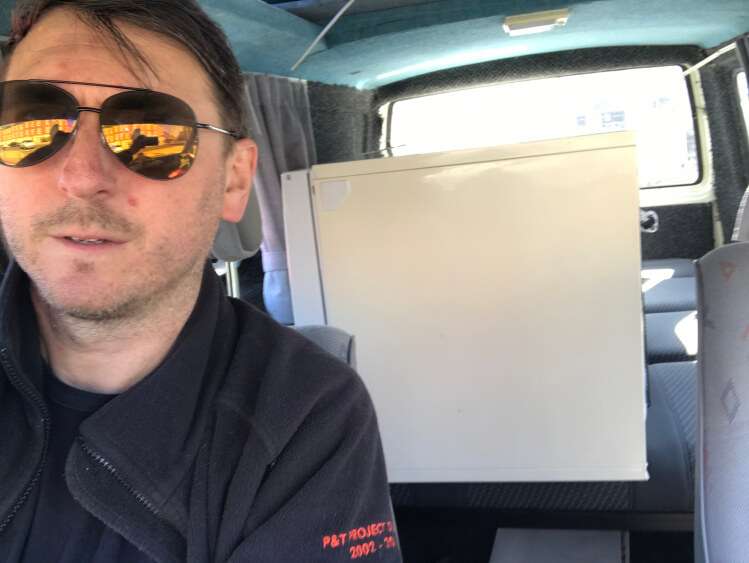 CHEERS REEDY!
We had a top catch up and he told be of his escapades over the past few years and how his family were getting on.
Since moving away from the area 20 years ago I havre missed a lot of my old pals and is always great to catch up with them.
Sofas are normally easy.
You can pick up a really nice quality one at a decent price.
But for some reason this time it was proving a bit tricky.
So I ended up buying 2 separate brown leather ones from two different sellers which matched and planned to collect on Thursday night and that would be the last of the big items in place.
On Thursday morning I viewed a beautiful 3 bed, 2 bathroom townhouse in Cleadon.
Another old mate of 30 years plus got in touch after reading of our landlord management services.
Word was getting round.
The place was amazing.
Especially the leather and wood built in seats and drinks cabinet!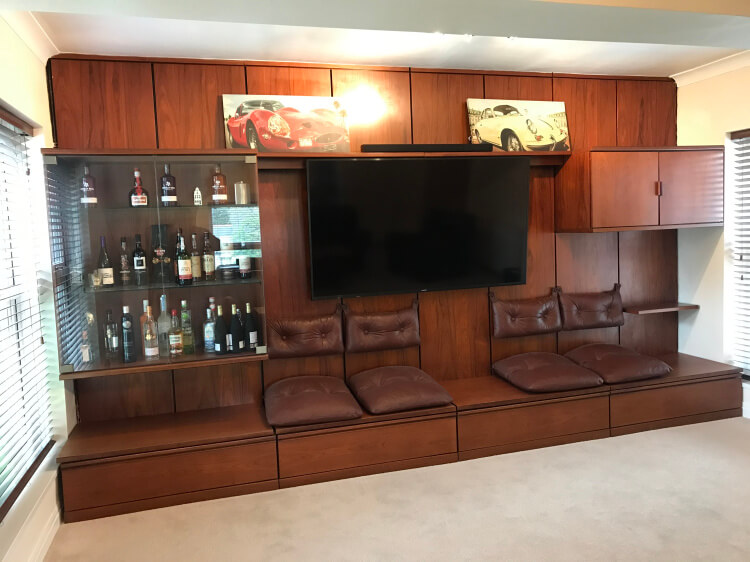 It looked like something out of James Bond in a baddies lair to me!
We have chatted a few times since and I really hope we can strike a deal for this place as I think it would work really well with lots of our guests between house moves, and folk returning to visit family.
But due to the relatively high amount of capital tied up in the property the sums need to work for both parties so we'll see.
Watch this space on that one but either way it was great to catch up with another old pal.
On returning to Byron Avenue I put the dishwasher in place and discovered that it clashed with the cutlery drawer, which now wouldn't open! The only kitchen drawer!
DISASTER 
It looked like some pipe modifications at the back might mean the dishwasher could move back a bit to allow the drawer to open!
HA'WAY MAN.
You need a cutlery drawer right?
This calamity was worth fixing. Or at least investigating further.
So my trusty plumber came out yet again and looked at it,
After many measurements he concluded that as well as a few other modifications, to rectify it the lead pipe work would have to be rearranged and would be a fair old job.
The benefit wasn't worth the hassle on this occasion.
Thankfully, the dining area had a plethora of huge old style pantry cupboards which I am so glad are still part of the house.
It gives it character and makes it feel homely in my opinion.
And they would do just fine for the cutlery.
Sometimes in life you have to compromise a little!
The mince n dumplings were devoured.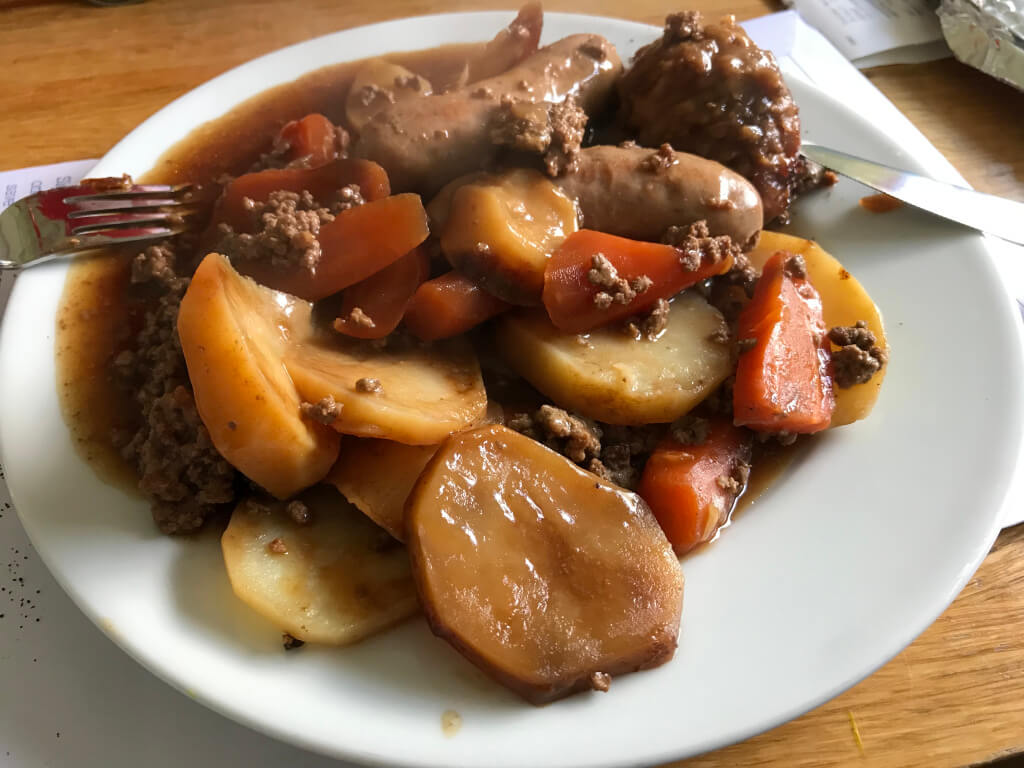 Superb.
After a long day of painting it was time to collect the sofas.
Both sofas pretty close, a 5 minutes drive away.
And I thought both would fit in the van at the same time so only one journey would be required.
The next day I had help to lift them from the van so sounded a plan.
WRONG!
Once the first sofa was in the van it was clear that the second would never fit
Best laid plans and all that..
So I headed back to Byron Ave wondering how I was going to swing this one.
I cheekily knocked on Connor, my next door neighbour, who by a massive coincidence is another old best mates son!
Connors wife answered and he was out and not back till later.
I scanned the street for another set of hands to help.
A couple of men were chatting a few doors up.
As I started to approach they headed into the house.
Must have saw me coming.
Sod it.
I can do this by myself.
I had a plan.
Two wheelie bins could work, right?
I got both wheelie bins placed next to the back of the van and planned to swing the sofa between the 2 of them.
Then wheel it down the path.
Simple.
How could it fail?
I was not long into this (doomed) plan when, as I realised I needed another set of hands, I heard a car pull up and a voice over the sofa shout: "Need a hand bonny lad?"
It was Gav!
A friend I spend hundreds of hours with as a kid in Biddick hall. Getting into loads of scrapes. Going to the football together (and we DONT support the same team!).
He came over, grabbed the other end of the sofa and helped me in with it.
He was round to see his son.
We chatted briefly.
But not for long enough.
Let's have a catch up next time I'm back and I'll get you a few beers for old times.
It was good to see you mate.
I headed to the last address for the final sofa.
Got back, and as if by magic Gavs son was getitng out of his car and both sofas were in place!
They looked great in the lounge.
It made me want to have a well earned seat.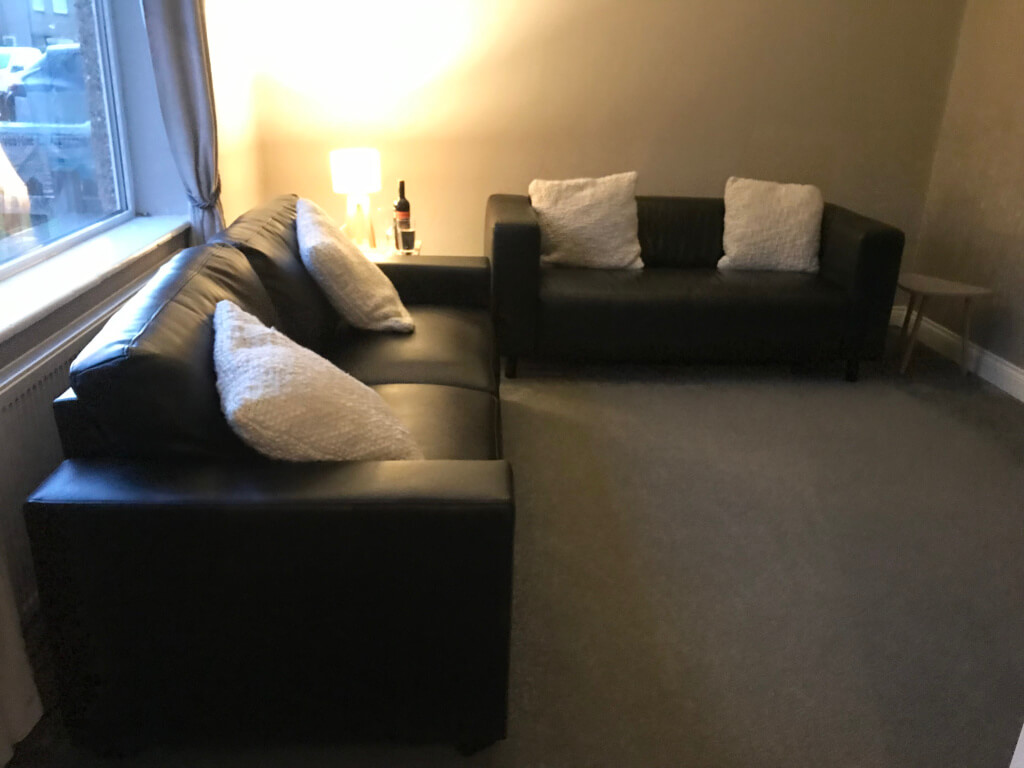 After a busy week and lots of calories burned I was really fancying a take away washed down with a beer or two.
Damn!
No beers.
And I really couldn't be bothered going out at this time.
I was shattered.
Then I remembered.
Along with her food parcel, my mam also included a nice bottle or red.
The pizza was ordered, and a couple of glasses of the wine washed it down a treat!
The end felt in sight and I crashed out in bed.
Friday was a big day.
The penultimate before the photos.
The router had been delivered and right on time the broadband went live.
You have your moments, but thank you Vodaphone!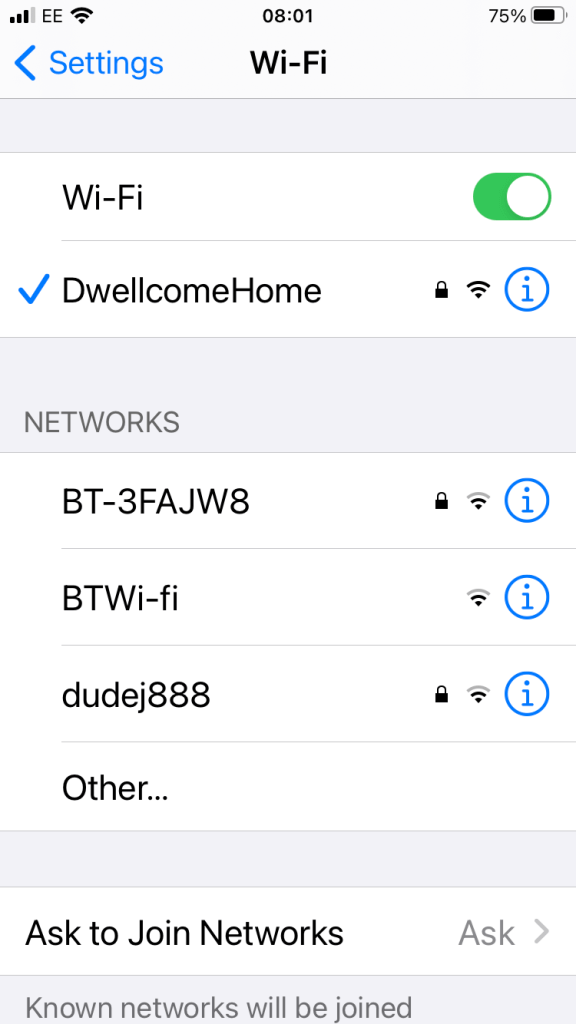 Glossing is no-ones favourite task but has to be done.
And some of this woodwork hadn't seen a brush in 10-20 years I reckoned, so it was pretty satisfying seeing the yellow turn white!
Makes such a difference.
Many folk paint walls magnolia so the yellow isn't so apparent.
But thats not our style.
We don't want to fool anyone and try to do things right.
White walls and white woodwork.
But the pantry doors were an issue.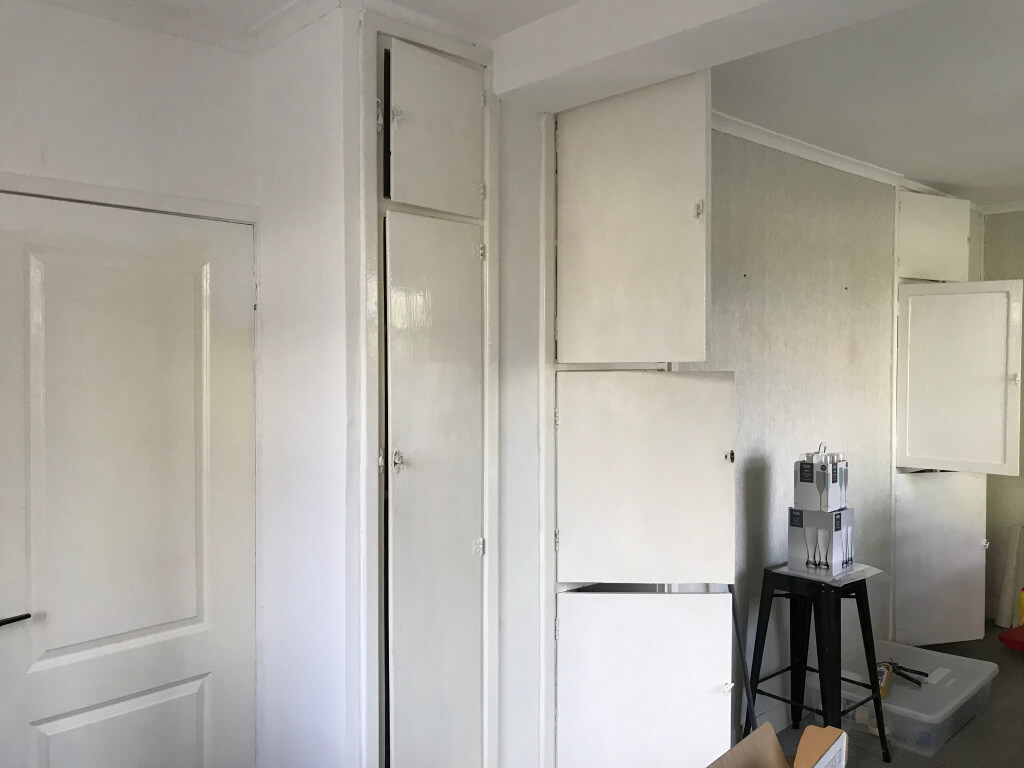 Over the years they'd seen so much paint that many didn't close and latches were stuck fast.
ANOTHER old pal Andy Mac (a joiner) was booked to come round Saturday morning and would sort them out no bother.
The main cavalry was due to arrive on Friday night.
My girlfriend Shonagh had offered to get the train down from Aberdeen after her work for the final days prep on Saturday.
A proper disaster stuck.
A fatality on the line (poor soul) meant she had to get a replacement (mega) bus to Dundee, so her train into Newcastle was delayed until after midnight.
Now that is going beyond the call of duty….
Delayed beers as I was collecting her from Central station.
Damn, but more glossing time I guess…
Every cloud.
On leaving the house to collect her and getting a few breaths of fresh air I felt a bit high from a day breathing in gloss fumes.
She arrived in one piece and after dodging a few drunks in Newcastle city centre another take away, bottle of wine and good nights rest later we tackled the final day.
It was a bit like Anekas Rice's old TV show where they had a week to transform a place.
Just it was us two whizzing round.
Tidying, getting all my crap (tools, boxes, painting equipment, etc) tidied away, the new stuff out and newly ironed bedding (thanks Mam) on and in place ready for guests.
And another trip or 2 to ASDA thrown in for good measure.
The garden was looking much better after it's make over from my mate.
But I had also struggled to get some garden furniture which would do it justice.
Then out of no-where I saw lovely wooden set of table, 2 benches, 2 seats for sale in County Durham.
Messaged the seller and collected it within an hour and it fitted perfectly.
My final two lovely Saturday night tasks awaited me while Shonagh made the place look lovely.
The garden bin was in sorry state.
It felt like it was half full of bricks and STUNK.
I have smelled septic (sewage) tanks when I worked on shipyards and I would say it wa son a par if not worse than that!
I wouldn't surprised if it it hadn't been emptied for several years.
But as I would need it empty for my garden waste to be collected I had the most pleasant task of dealing with it's contents.
I firstly poured the gallons of manky water (probably a great fertiliser!) onto the lawn, then spread the contents out on the path to dry out overnight and mulch into the flower beds in the morning.
Sorry again neighbours but it needed doing! Thankfully the smell was gone in the morning
Then there was the outhouses to empty which were packed to the ceilings with the contents of probably the last few tenants of the property.
This is often the issue we face when taking on new properties.
Things can look okay on the surface but when you dig a little deeper you find things needing addressing.
During cleaning we also noticed that the very heavy glass shower panel was loose and likely to break someones ankle if it fell. This is now rectified also!
Anyway, the old kids toys, decorating equipment, tools, polystyrene packaging, etc were removed and loaded into my van for disposal.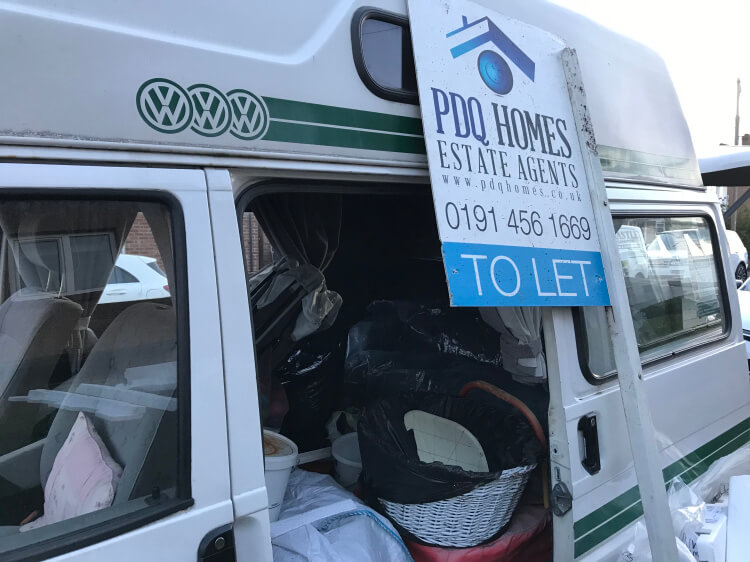 The resultant space was used as a new bin store.
The original occupiers/owners of this great house, my friends grandparents, would have used this space to wash clothes, and the water to tend to their leeks and other garden vegetables which were lovingly home grown.
Sunday was photos day.
Things went swimmingly well.
Massive thanks to Nathan for his patience and I am really delighted with the output.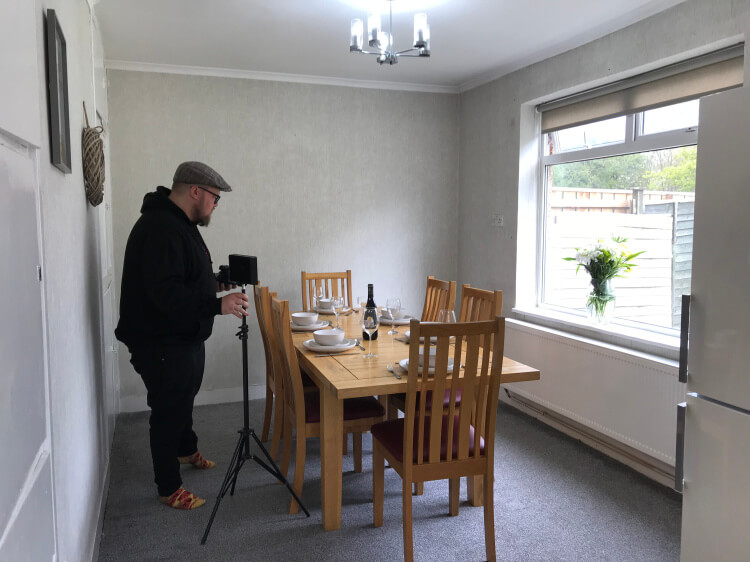 After packing our final possessions, refuelling the van and our bodies the final leg of the journey was complete and Sunday night came around again.
Yet another owner, recommend by the owner of Byron Ave contacted me just yesterday and we will chat next week about the possibility of looking after her place.
I'm not too sure how many more places I want or can manage but will be interesting to find out what she has to say.
Have a great weekend everyone and as always, I would love to hear any thoughts on our latest shenanigans and if you'd like to see the final photos heard over to our Dwellcome Home South Tyneside Facebook page and feel free to give it a like.
Colin.